credit: vicarious visions
I had no idea that
The Guardian
ran a series where "celebrities share the lessons life has taught them," so I'm glad the first one I read was Kiefer Sutherland's life lessons. Named the
'This Much I Know' series
, it's definitely a more insightful way of laying out an interview — the interviewee has a lot more room to speak and allows them to go into much more detail than in your standard interview.
With Sutherland, he delves into how many bones he broke during the filming of 24 (it's a lot), what his parents Donald and Shirley Sutherland taught him growing up, his experience of being a twin (which I had no idea about), and not being prepared for a child at 19 — again, something I didn't know about or that his daughter Sarah is Catherine on Veep.
Sutherland's best advice overall is "oh fuck it, I'm going to do it anyway." Words to live by.
This may have been during his
recent roast on Comedy Central
, but if Bruce Willis
really
meant what he said, I strongly disagree with the man. All signs point to
Die Hard being a Christmas movie
— including the second one — and I will not hear otherwise. Screenwriter Steven E. de Souza even made a handy chart proving it's a Christmas movie.
credit: steven e. de souza
Sky Atlantic aired Marina Zenovich's documentary on Robin Williams last Sunday, and it's a film that has rightfully been met with critical acclaim. Williams such as an enigma, who consistently made the world laugh whilst battling his own demons.
Rolling Stone
's Keith Phipps
wrote a fantastic review of the documentary
, also mentioning
New York Times
culture reporter Dave Itzkoff's biography as well.
"Both the doc and the book avoid tortured artist cliches while still depicting Williams as a man with complexities within complexities," Phipps writes. "One bound to a need to entertain by forces as strong as those compelling Aladdin's genie to a life of servitude."
Williams meant a lot to me growing up. He became a beacon for whenever my anxiety got too much or felt so low that I didn't know what to do with myself — but he was always there like a sort of imaginary best friend to pick me up, dust me off, say it's okay to feel these feelings and proceed to make me cry with laughter.
Whether I'm ready to watch this documentary or not, I'll be tuning in for sure.
Ariana Grande's 'God is a woman' is still flawing me, and it has definitely caught the attention — and awe — of the media. "[Grande's] weirder, bolder, funnier as she processes tragedy in the most intriguing album rollout of an overcrowded superstar season," The Atlantic's Spencer Kornhaber writes. "If God is a woman, she's working delightfully mysterious ways." I couldn't have said it any better myself.
You can obviously see how much fun Grande is having with making Sweetener, and it's honestly so heart-warming to see after everything that's happened.
Oh, how I have missed Bryan Cranston. I would kill to have the opportunity to hang out with Cranston and Aaron Paul — it would be hilarious, no doubt. Might give the shit bucket a miss, though.
The fourth season of Better Call Saul is fast approaching... and I'm still on season 2. Yeah, I know. I really need to catch up, but I think I might just rewatch the show from the beginning again. Not only so I can get back to grips with the narrative, but I also really adored the first season.
What I do know about season four though is that some pivotal Breaking Bad characters could be making an appearance. That's at least what creator Vince Gilligan has alluded to in an interview with Entertainment Weekly.
"We have a subplot that very squarely gets into Breaking Bad territory and brings us into the world or at least points us on a path towards the world of Walter White and the territory of Walter White," Gilligan says.
He also doesn't want to make the appearances a waste of time (amen to that), adding: "[I]t wouldn't feel as satisfying if it was just a cameo or an Alfred Hitchcock walk-through, I think we've waited long enough. We damn well better have a good reason for them to show up."
And yes, I do know there was a trailer debut for the season at Comic-Con, and after spoiling some of the narrative to myself by reading the comments, I'm not watching it until I actually watch the season.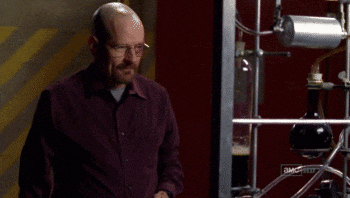 Did y'know, I saw Pearl Jam this month? I've mentioned it enough, it's so surreal that I've seen them live. I've completely forgotten about it being canceled the first time thanks to this experience.
Obviously, I took my mum with me — not only has she become a fantastic concert buddy, but thanks to years of me repeatedly playing Pearl Jam in my bedroom she too is now a huge fan (the same goes for when we saw Red Hot Chili Peppers, Eagles of Death Metal, Queens of the Stone Age, Foo Fighters, Bob Mould — she's such a cool mum).
This was as big of a day for her as it was for me, so I decided to show her a little something. On the side of the O2, they have huge photos of musicians that have performed at the venue. When we went to see Roger Waters in 2011 (my first huge concert), we walked past a photo of them on the way out, and I said to myself that I'd see Pearl Jam someday. And there I was with my mum, showing her the photo whilst waiting for Pearl Jam. Such a bittersweet moment.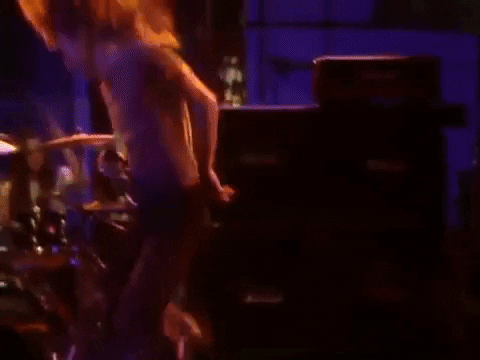 The gig itself was such a special experience to share with my mum, and it was also one of the best gigs I've ever been to. I tend to say that about every concert, but it damn well was. I love these bands so much, so seeing them live is such a beautiful, once-in-a-lifetime experience — especially when you've been listening/watching them in your room for so long; you tend to forget they're real until they're standing in the same room as you.
I've also recently decided not to share as much about the gigs I'm going to on social media. I used to take so many photos and video, that I was often losing myself in the actual moment. I was snapshotting it to remember it, but after seeing Foo's at the Olympic Stadium and Pearl Jam without doing that as much, I have a much more vivid, personal recollection of the show in my mind — like it's just for me. I didn't realise how consumed I'd become with documenting the moment rather than experiencing the band's presence and the atmosphere.
Anyway, Pearl Jam were amazing, they played for 3 hours (?!) with no support, and closed with 'Yellow Ledbetter', which they didn't play at the un-canceled gig. Suck on that.
credit: toys for bob/activision
Thanks to Comic-Con, there have been some further
updates regarding the remaster of
Spyro.
The soundtrack will feature a new track from original composer Stewart Copeland, and players will have the option to listen to the game's original soundtrack or the newly remastered version via the menu.
The soundtrack "includes some of my favourite themes from the original soundtrack, which I'm sure the Spyro faithful will appreciate," Copeland noted.
I also completely forgot that
Tom Kenny voiced Spyro
in the first two games and had no idea that he was returning for the remaster... let me
LIVE
. I don't know how much longer I can wait for this now, seriously.
Thankfully, I have the remaster of the first three Crash Bandicoot games to keep me occupied with nostalgia. They might slowly be turning me n-sane (I forgot how hard these games were!), but every single time Crash pulls a gem out of his mouth or ass with a 'ta da daaaa!' it puts a goofy smile on my face and I fall in love with the game over and over again.
Plus, the fact that I consistently want to hurl my controller against a wall is further proof that The N-Sane Trilogy is a fantastic game.
We all know about 'fake news' and clickbait, and it's not going to stop any time soon — especially when it comes to video.
Vox
's Brian Resnick
explores the detrimental effects of fake video
and photos, thanks to "advances in artificial intelligence" that make it "possible to convincingly map anyone's face onto the body of another person in a video."
It's even gotten to the point now that actresses heads are being mapped onto porn actresses' bodies so realistically, it's increasingly the severity of "deepfakes" that "can be generated with free software." As Resnick rightfully says, "this is live-action and uncannily real," and ultimately dangerous.
Not only is it scary to think what technology is capable of when it comes to mapping your face (just think of the new iPhones and their facial recognition), but faked videos and photos have the potential to actually rewrite our memories. "The human mind is incredibly susceptible to forming false memories," Resnick concludes. "And that tendency can be kicked into overdrive on the internet, where false ideas spread like viruses among like-minded people."
A lot of trailers were shown at Comic-Con this year (as per usual), and I thought this would be a good opportunity to share my first impressions on the films and television shows that have peaked my interest.
I have no idea of the backstory regarding Aquaman, although I am familiar with fans taking the piss out of previous incarnations of his character. I would like to dive into (pun intended) his history, but I never know where to start with comic books. It's like how I want to read all The Punisher and Deadpool issues and I instantly become lost at the sheer volume of issues, editions, collections, whatever.
Anyway, my first impressions of this trailer are mixed, to say the least. I really want to be excited about it because I adore Jason Momoa, but the CGI isn't sitting well with me. Obviously this isn't the final product, however, it's floating (ayy) towards being too comfortable within the 'uncanny valley'. There are some beautiful pieces of cinematography and CGI working well together — the shot of Aquaman diving with a flare into a cross-section of the ocean is one of them — though they are few and far between.
Also, why does every film that has a shot of characters in the water at sunset refuse to actually go on location? I mean, it's great and all that they're in real water, but the green screen is so noticeable against their heads that it takes attention away from these scenes.
I haven't watched Unbreakable or Split (I know, I'm a disgrace), though I do vaguely know what the two films are about. There's such a cool history surrounding these films, and I totally admire the way that M. Night Shyamalan has created this universe in such a distinct, personal way.
It's a testament to Shyamalan really that I'm already this invested in the last film of a trilogy that I haven't properly followed. Also — Sarah Paulson, Bruce Willis, Samuel L. Jackson and James McEvoy? Sign me the fuck up.
Again, I don't know the backstory regarding Shazam! and when I first watched the trailer for this film, I thought it was a little cheesy (the outfit mainly), and I didn't understand the concept. Stupidly enough, I thought the boy and the hero were two separate people, not the same person (I'm an idiot).
The more I watched the trailer, though, the more I began to look forward to it. Mainly because Zachary Levi, who never fails to make me swoon and burst out laughing — I just love his comedic timing so much.
Nevertheless, I can confidently say that I am absolutely terrified that I have ended up liking the look of this movie since it's DC. Remember everyone looking forward to Suicide Squad thanks to the trailer? Yeah, we all know how that went.
I really like the look of Disenchantment with its female lead and magical setting, and it also seems that Groening has gone back to a more grounded humour compared to what The Simpsons has become.
Speaking during the TCA summer press tour,
Groening explained how Disenchantment came to be
: "I keep sketchbooks that are full of characters and I started drawing fantastic creatures we couldn't do in
The Simpsons
and we just went from there," he explains. "We plotted the show as a drama and then we added jokes. You're sort of working with this imaginary, ideal animated world that you're thinking of in your head and it always turned out different than you expect."
Trust me, I love The Simpsons, but man it is overstaying its welcome now. There's a reason why Futurama did do well — it ended after seven seasons. The Simpsons is still running and is in its 29th; who do the math.
I definitely need a longer trailer to have a better opinion on this reincarnation, but I'm so excited to see Jodie Whittaker as the Doctor.
From the short amount shown in this teaser, it looks completely different to previous seasons. The colour corrector looks both luscious and dystopian, the quality looks sharper, the cinematography is absolutely mesmerizing, and it doesn't feel cheesy anymore. That weird glow that made each season look...odd has also disappeared, thank God.
It's also weird season Bradley Walsh as a companion — and not on The Chase — and three companions accompanying the Doctor instead of one.
Despite what others thought, I really enjoyed the first season of Iron Fist. I mean, it had its flaws (the narrative was incredibly slow at points), but I loved the character development of the complicated Danny Rand in such a small space of time. Finn Jones's really didn't (and still doesn't) get the recogniition that he deserves.
Season two is looking fresh as hell, and I cannot wait to see Danny and Colleen (Jessica Henwick) kick ass together.
I've been meaning to watch the original series of Roswell, since it always comes up in my recommended whenever I look at anything X-Files. I'm definitely going to have a watch before the release of The CW's re-imagining.
"Let's make Teen Titans edgy" — said no one ever. Like, I know I grew up with the more 'light-hearted' version on Cartoon Network, but even that got darker and didn't go on such a jarring, young-adult path.
It's only a trailer, but I don't think the series is going to be any better. I might be wrong, though — Who knows.
A "Psychological thriller set in space"? Yes, please. I have no idea what's happening but it comes from the mind of George R. R. Martin and I'm here for it.
credit: paramount pictures/nickelodeon
What a time to be alive; everything from my childhood is returning to bless the world. From
Double Dare
to
Rocko's Modern Life
, nostalgia is rife and I'm living for it. And according to
Digital Spy
, "
Nickelodeon has ordered 26 new animated episodes of
Rugrats
and will also partner with Paramount Pictures for a live-action movie that will integrate CGI characters."
The last time I watched anything Rugrats related was the All Grown Up! series in 2008. That was ten years ago. TEN YEARS. Rugrats has always had a special place in my heart, thanks to growing up in a space where a cartoon was able to not only enthrall me and my brother, but my parents were also huge fans of it — they would even watch it by themselves on Saturday mornings before we woke up.
As Nickelodeon president Sarah Levy explains: "What was true in 1991 when the original show premiered is still true today: kids are fascinated with the world of babies." That combined with discrete adult humour and memorable characters, it's no surprise that Rugrats became the phenomenon that it was, and still is — I'm literally typing this in a Reptar dressing gown (thanks, Primark).
I can't believe this is actually happening — National Geographic are making a docuseries with Jeff Goldblum. Exploring "the extraordinary stories behind the world's most 'ordinary' things," Rolling Stone's Althea Legaspi writes via Deadline, this documentary is going to be legendary.
Titled The Curiosity of Jeff Goldblum (perfect), it will be a 12-part docuseries and is my idea of heaven. To watch Goldblum for 30-minutes marveling at toilet paper and ice cream is gonna be special. As Legaspi writes, Goldblum told Deadline: "National Geographic has a knack for developing smart, immersive narratives that expand our understanding of the world around us in creative and entertaining ways. Curiosity is a fundamental human trait."
I'm still apprehensive about
Watchmen
being adapted to the small screen, but I'm also so down for it.
HBO apparently have high hopes
for it, as HBO President Casey Bloys told press at the 2018 Summer Television Critics Association that "the development process has been 'amazing so far,' and he expects to make a decision on ordering the pilot series 'hopefully as soon as possible."
That's good news, right? Coupled with creator Damon Lindelof's heartfelt open letter regarding the show on Instagram (which you can read below), Watchmen on the small screen might actually succeed — fingers crossed.
I'm British, but some of the words that Henry Cavill and Simon Pegg are defining I haven't even heard of. Never in my life have I called something I can't quite remember the name of a 'Doofer'. Nevertheless, the two of them together are absolutely hilarious, and Cavill's giggle is infectious.
credit: hellogiggles
Evan Peters is such a humble guy who truly loves working/acting. He immediately lights up when he goes into detail about the characters that he's portrayed from his early work in Never Back Down to Quicksilver in X-Men, and it's delightful to watch.
Especially when he goes into detail about his various characters on American Horror Story, including an insight into my favourite portrayal of his in American Horror Story: Hotel as James Patrick March. "I don't know how I developed the voice," Peters explains. "I was watching a lot of William Powell for a 1930s voice — [it] sort of just came from there."
He also went into how he surprised himself at becoming so desenitized to what he was portraying in each season, which I've always wondered as well — a very interesting watch.
credit: steve schofield
I've been a huge fan of Simon Pegg since watching Shaun of the Dead in 2007 at eleven-years-old, and I could literally gush about the guy for hours. Like Jim Carrey, he just makes me light up in whatever film he's in.
Pegg details his career from Spaced to the recent release of Ready Player One, giving really cool insights into the creation of characters within the Cornetto trilogy (Shaun of the Dead, Hot Fuzz, and The World's End), and how he came to star in the Mission Impossible films and write the third installment of the recent Star Trek revival.
credit: lynn goldsmith
Similar to the Robin Williams documentary, director Lisa Dapolito follows the hilarity and sadness that the legendary Gilda Radner experienced in her career and life. Using excerpts of Radner's diary, audiotapes, videotapes, and interviews with friends and family, Dapolito paints a beautiful picture of the lust for life that Radner had, and the effect she still has on Saturday Night Live.
Since I grew up in the UK, I've never had great access to Saturday Night Live other than the clips put on YouTube. I've only just started discovering the original line-up — including Radner — so this documentary will be an emotionally interesting watch for sure.