credit: netflix
It has been twenty-five years since Audrey Hepburn passed, and London Proud Galleries are celebrating her life in a photography display named Audrey Hepburn: Beyond the Screen. Described in Vogue as an exhibition that captures Hepburn's "own distinctive styles [that] celebrate[s] her extraordinary and enduring legacy."
You can take a look at some of the portraits
here
.
If you're as obsessed with stargazing as I am, you'll know that August is the best month to see some stellar meteor action.
Between July 17 and August 24, the Perseid meteor shower lights up the night sky with fantastic streaks of light that pass through the Perseus constellation. The peak may have passed, but there's still some time left to marvel at one of the wonders of the universe.
Harper's Bazaar
have compiled a fantastic gallery of photographs from across the world documenting the event, and you can view them
here
. If you live in a pretty heavily light polluted area, looking at this photographs are your best bet at seeing how bright and magnificent these meteors — and the night sky — can be.
The
odds of you being struck by lightning
is around 1 in 10,000, according to the
BMJ
, but that doesn't mean you shouldn't be wary when a thunderstorm is brewing — Even if you're indoors.
Vogue
's Giles Hattersley has conducted
an extremely heartfelt interview with Ariana Grande
, where she opens up about the Manchester attack, how it affected her, and how the singer still keeps in touch with the victims and their families. Grande also touches upon how the attack influenced her latest release
Sweetener
, and just proves how wise and well-rounded she for her age.
It's an emotional but thoughtful read, though if you need a little pick me up watch her Carpool Karaoke with James Corden — Grande's sense of humour is insatiable.
Sabrina the Teenage Witch was my jam as a kid, so the idea of a 'reboot' of the series didn't really sit well with me... but I had absolutely no idea about the shows originally origin. Turns out it was based on a Archie comic series from the '60s — who knew? A lot of people, probably.
Anyway, this upcoming Netflix series isn't based on either the '60s comic or the '90s show. Instead, its an adaptation of a pretty recent comic series entitled The Chilling Adventures of Sabrina, created by Robert Aguirre-Sarcasa in 2014. You may recognize that name from the credits of Riverdale, as Sarcasa is also the developer of that series.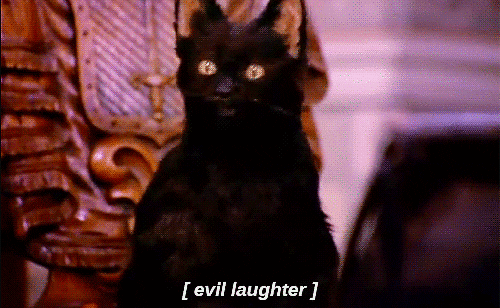 credit: giphy
As Cosmopolitan points out, The Chilling Adventures of Sabrina takes a "darker take on the characters and setting of Sabrina the Teenage Witch (uhh, yes please), and explores a more horror-centric setting. I mean, all you have to do is read the Netflix synopsis to figure that out, let alone read the comic:
"The Chilling Adventures of Sabrina imagines the origin and adventures of Sabrina the Teenage Witch as a dark coming-of-age story that traffics in horror, the occult, and of course, witchcraft. Tonally in the vein of Rosemary's Baby and The Exorcist, his adaptation finds Sabrina wrestling to reconcile her duel nature — half-witch, half-mortal — while standing against the evil forces that threaten her, her family, and the daylight world humans inhabit."
And as much as I adore the original Salem — who will forever be my inner self — the new one looks so precious OMG. Someone get me a black cat, stat.
I'm still not sure how I feel about Disney making live-action adaptations of their films, but I am slightly swaying more towards being okay with it thanks to one photo of
Liu Yifel as Mulan
.
I think my disdain for Disney turning these films into live-action/CGI remakes is from growing up with the original films, especially during the 90s thanks to the animation renaissance — they're just perfect the way they are.
But then again, the film student in me is interested in seeing how these stories can be adapted to a different medium. Like I had no idea
Lady and the Tramp was being remade
and was annoyed by that for a hot minute — that was until I found out that Tessa Thompson and Justin Theroux would be voicing Lady and the Tramp. Um, heaven.
I felt the same way with
The Lion King —
they're just so meaningful to me that it's hard to see them be changed and adapted to something else. I guess I just don't want to let go of the originals — I'm just too damn sentimental.
Directed by Bexy Cameron, Lost Club Culture is a curious insight into the late '80s / early '90s rave culture, and how the generations have changed in the past twenty years to led to the decrease (and closures) of clubs that were so popular at the time.
I'm not a huge fan of rave / club music, but I do appreciate it. It's so fascinating to see how a culture was made from one genre, and the effect that it had on the younger generation of the '90s and its correlation to the political climate of the times.
I've never been to a club (or a rave lmao), so I have no idea what the current culture is. But looking at the number of clubs closed around where I live says a lot, I think.
A lovely retrospective of such a badass, legendary woman to celebrate her 60th birthday, the writers of The New York Times have compiled a list of 60 times the singer changed our culture, from reinvention and sexual revolution.
Harper's Bazaar have also assembled their own retrospective of Madonna's most iconic fashion moments throughout the years, which is definitely a must read.
I didn't cover this last week as I didn't really understand the Academy's intention — I still don't — but reading
Vox'
s suggestions of '
6 new categories the Oscars actually need
' brought me to a solid conclusion for the Academy: Hire these writers and make their suggestions happen.
Seriously, it's unbelievable that these ideas aren't already categories, especially 'Best Stunt Co-Ordination' and 'Best Voice Performance'. I mean, what constitutes a popular film, anyway? How is it any different to 'Best Picture'? Is it of lesser merit, or have the Academy become so half-assed that they think a 'broader' category will up their ratings?
They've definitely made a huge mistake on this one, that's for sure.
A hero for all the outcasts, Winona Ryder has always been someone I have constantly looked up to. She's currently in the middle of a renaissance (to say the least), stealing the show in Stranger Things and just being herself.
All us outcasts need a little more Ryder in our lives.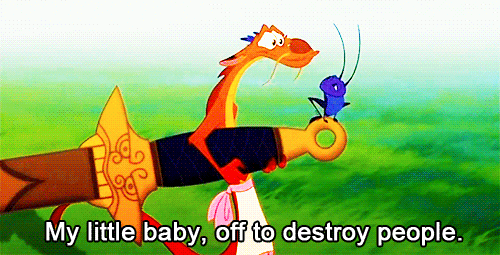 credit: giphy