credit: ariana grande/youtube
Yeah... I promise I'll have single implements of this soon. Promise.
Okay, don't @ me but I still haven't gotten around to watching
John Wick 2
yet. Buuttt, that ain't gonna stop me from
freaking out over the Parabellum trailer
. While I may have absolutely no idea what the ramifications of the last film were, I am
so
here for the cyberpunk aesthetic, the continued Keanu renaissance, Wick on horseback, and the iconic dog duo. And, as
ShortList
aptly put it, this is "probably the most violent film in history to feature a
Kinky Boots
poster."
Excuse me while I go get up to speed with the John Wick universe.
credit: fx
I'm finally verse on all things American Horror Story, which means I can now watch in-depth video essays without getting anything spoiled. Obviously, AHS is a series that begs a rewatch to catch all the intricacies and callbacks, but if like me you do not have the time for such an endeavour GameSpot Universe have got you covered. They recently did a deep dive into all eight seasons, proving how rich and developed the narrative structure structure of Ryan Murphy's creation is, and how insane the connections are between each series.
If you'd asked my stance on Ariana Grande a couple years back, I wouldn't have an answer. 2019 rolls around and she is pretty much dominating my streaming habits. Whether it's because my music taste has broadened or it's down to me getting rid of the taboo of guilty pleasures,
Grande has been releasing bop after bop
as of late and I'm all here for it; especially with the experimental hip-hop vibe she's going for with '7 Rings'.
Looks like I'm a total Grande stan now, and I'm not ashamed of it.
credit: disney animation
Looks like I'll be making my way to Shanghai Disney in the near future, because
Disney have just announced that they're building a Zootopia-themed land
. The second major expansion of the park since it opened in 2016, Disney promises that guests will be able to "fully immerse themselves in the mammalian metropolis of
Zootopia
, 'where anyone can be anything'" according to
The Hollywood Reporter
.
Hopefully this means that this land could come to the American parks. Like I for sure didn't think the Tron ride would be implemented in Walt Disney World after it opened in Shanghai, but it's currently being built soooo... Disney, you know what do to. I need to experience Zootopia IRL.
I another life I would have totally ended up being a volcanologist. Obviously, that didn't pan out in this one, but that hasn't stopped me from reading up on the latest research. I remember studying about a possible connection between volcanoes and earthquakes when I was studying for my geography GSCE, and while it's been a topic that experts have been researching for decades.
As
National Geographic
pointed out in a recent article, it's
possible that patterns could soon be recognised
through an "increased monitoring of volcanoes worldwide," which could "help provide data needed to begin recognising patterns" and what triggers could "indicate a heightened probability of eruption."
Since I was a kid, I've amassed quite the collection of DVDs and Blu-Rays. It's strange to realise that over the past couple years, they've began to collate a layer of dust thanks to the increased availability of streaming, and it looks like this isn't going to be stopping anytime soon. So, what does the future entail when it comes to streaming? Well, if
Netflix continue greenlighting everything and anything
in sight — yes, they greenlight entire
seasons
as opposed to pilots like traditional cable, according to
British GQ
— it's looking like a future focused on quantity rather than quality."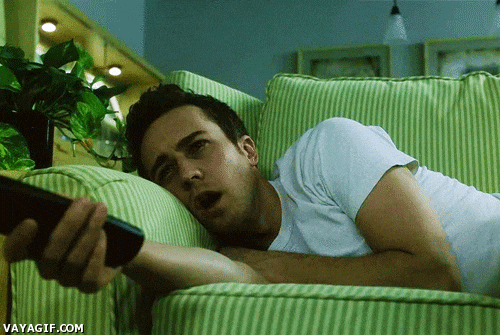 credit: giphy
credit: theo wargo/getty images
If I wasn't hyped enough for
The Sopranos
prequel film, it's been announced that
Michael Gandolfini has signed up to portray a young Tony Soprano
. Son of the OG Tony, Michael's resemblance to his later father is absolutely unreal, and he's (obviously) super proud to be portraying the iconic character his dad brought to television screens.
"It's a profound honour to continue my dad's legacy while stepping into the shoes of a young Tony Soprano," the actor told
Deadline
. "I'm thrilled that I'm going to have the opportunity to work with David Chase and the incredible company of talent he has assembled for
The Many Saints of Newark
." If you want to see
Michael in action in the meantime
, check out HBO's
The Deuce
,
Ocean's Eight
and
Flower
.
If you want to keep up with the mainstream this year, Time have got you covered with a rundown of the books being adapted into films and television shows. From new adaptations of Catch 22 (starring Christopher Abbott, Kyle Chandler, Hugh Laurie, and George Clooney), Little Women (starring Saoirse Ronan, Timothée Chalamet, Florence Pugh, Emma Watson, Meryl Streep, Laura Dern, and Eliza Scanlen), and Watchmen (starring Regina King, Jeremy Irons, and Don Johnson), to the much-anticipated Little Fires Everywhere (starring Kerry Washington and Reese Witherspoon), I'm totally excited to lose my mind in these adaptations.
The ability to compare what appears in your head and how someone else perceives it on screen is so addictive, man.
To say Joe Berlinger's
Conversations with a Killer was a wild ride is an understatement
; it truly puts you under Ted Bundy's spell despite how much you do not want to be thrust into that position. As
Vox
aptly puts it, the docu-series lets Bundy "talk, and talk, and talk," allowing the killer to still have a narrative hold on his crimes even this many years after his execution. And while this allows viewers to see how Bundy truly manipulated his family, friends, and victims — the tapes are also a detriment to the series as it still gives him a weird grasp of control on the victims of his crimes.
Conversations with a Killer
definitely proves that Bundy still runs the show, as
Vox
reiterates throughout their review of the series.
As much as the series delivered in regard to the title (and the material it's sourced from), the victims, their families, and the survivors often feel like an afterthought. More episodes would have benefited Conversations with a Killer greatly and would have definitely given the show more of a balance rather than focusing solely on Bundy's psyche. As dumfounding as his escapes, evasion, and insane ability to manipulate were, it just doesn't feel right giving him so much of the spotlight.
And as to my thoughts on
Berlinger's upcoming biopic of Bundy
, I don't think the trailer is misleading at all. The film is told through the eyes of Liz Kloepfer, his girlfriend during the height of his crimes, so there's going to be bias in that regard. She was hypnotised by his 'charm' and ability to somehow lie through his teeth without people batting an eyelid. Like in the doc, he only got caught thanks to traffic offences which then led to his convictions, and the police in Florida didn't even realise they had him under arrest after he changed his appearance and stole someone's identity.
Granted, I do think the trailer has a weird, juxtaposing feel — but that's what Bundy conveyed. Plus, it's
not usually the film's distributor that make the trailer
; it's often outsourced to specialised companies, and there have been plenty of examples where the trailer ends up being the complete opposite to the film.