credit: nintendo/youtube
Sinking into a good book has always been my go-to whenever I feel stressed or overwhelmed. Escaping into another world — or even just into someone else's head — can elevate the majority of my anxiety symptoms in just an hour or two. And it seems like the NHS are on the same page (pun intended), as they are advocating
literary prescriptions to complement medication and therapy
, as
Stylist
reports.
As someone with a goal to read 30 books this year — and enough books to cover that — I've already got my own book prescription on my shelf. But this is such a good idea for those that elevate their anxiety/depression and other mental health issues with reading.
credit: lush cosmetics uk

There's way too much stuff to list here, but Lush have outdone themselves again with their Mother's Day and Easter series. Instead of just going down the stereotypical route of releasing bath bombs in the shape of eggs, the retailer has added hidden surprises within these products like flower petals, little dinosaurs, and other bath melts.
Lush have also produced personalised bath bombs for Mother's Day especially, when you can write a little message for your mum. "You can tell your loved one how you feel by removing the scroll and writing a message in one of these personalised bath bombs," the site reads. "They'll discover your note as they take a well-deserved soak."
Since playing
Breath of the Wild
so extensively, I've been wanting to experience the beginning of Zelda. Turns out that pretty much all the Zelda. Turns out that pretty much all the Zelda games are on the 3DS eShop, so I downloaded the first game for the NES. I completely it pretty quickly
thanks to Zelda's Dungeon
, as it was a
lot
harder than I expected it to be.
I wasn't sure about using a walkthrough to start with, as I thought it might take away from my experience of the game but it actually enhanced it. It helped me make the most out of the game and progress through the story (especially for someone that has never played the NES), but gave me the freedom to play in my own way).
I'm onto the second game now which I originally began by myself but turned back to this walkthrough channel as the mechanics are totally different to the first game. I'll keep you posted as to how that turns out.
credit: orlando sentinel
As a huge fan of the Disney parks, it's difficult but necessary to accept that the parks have to change with the times in order to stay current, meaning that some beloved attractions have to be removed and replaced. Although, that doesn't mean it's not difficult to say goodbye — especially when some of those attractions are
so
iconic. If you want to
reminisce these beautiful aspects of the parks
,
Insider
have got you covered.
credit: netflix/vanity fair
While I'm trying to focus on one show at the moment (The Office US) instead of watching a dozen shows at once, it's hard not to continuously add things to my watchlist and start them ASAP. From The Umbrella Academy to Sex Education, Russian Doll to Mrs. America, there are just too many good shows making the rounds right now and everyone seems to be talking about them.
credit: disney
It's seemed like forever, but
Disney Parks finally announced the opening dates for
Star Wars: Galaxy's Edge
in Disneyland and Disney World this week. Anaheim will be the first port of call to experience this attraction, as it officially opens on May 31. The Orlando land will open a few months later on Aug. 29. According to
Huffpost
, this is sooner than the summer and late fall dates that were announced earlier this year.
The only downside to this earlier than planned opening is that only one of the two staple rides of the land will be operating. Millennium Falcon: Smuggler's Run will be operating on opening day, but Star Wars: Rise of the Resistance won't be functional until later in the year. While no date has been announced as to when Rise of the Resistance will begin operation, Disney have described the ride as "the most ambitious, immersive and advanced attraction ever imagined."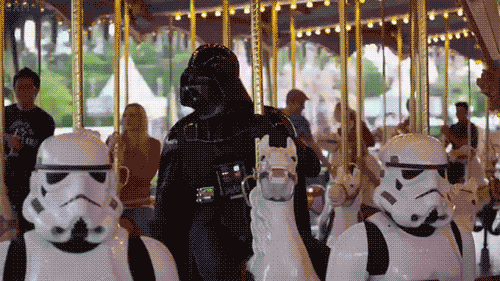 credit: giphy
If you're planning on experiencing the lands on opening day in Anaheim, be wary that you'll need to have a reservation to get inside for the first few weeks due to crowd control, as Huffpost reports. You won't have to pay extra for the reservation, and if you're staying in a Disney-owned hotel you'll automatically have one designated. There currently aren't any similar plans in place for the Florida opening so far, Huffpost reports.