image credit: netflix
image credit: pixar
When
Toy Story 4
was first announced, it was hard to imagine anything that could replicate the emotional impact that the ending of the third one had. But watching
the trailer that Pixar dropped this week
, I can already tell that it's going to have me bawling in the cinema — although, it's hard to pinpoint why.
First it was the thought of Bonnie being so upset over losing Woody and Forky, then it was Woody contemplating whether life or a "lost" toy would be better for him, then it was coming to the realisation of what it means to be a toy. Tom Hanks and Tim Allen have also spoken about how hard it was for them to get through the last lines of the film, so there's that too.
That's not to say it's not funny, though. It wouldn't be a Pixar film without an equal balance between humour and emotion and it seems that Forky (voiced by Tony Hale) will be the main source of comedy in the film. I mean, a toy having an existential crisis in a Pixar film? Um, yes please.
When
Detective Pikachu
was first announced I wasn't too sure how the transition from 2D anime style to the real world where Pokemon are among real people would pan out. Thankfully this transition was the top priority for the production team, as
producers Ali Mendes and Greg Baxter
said in a recent interview with the official
Pokemon
site. "From the beginning, our idea is this has to be the highest-quality animation possible. These creatures really need to feel like they're standing next to you in the real world, and that's going to be the success of this movie," Mendes said.
This realism is further amplified by the VFX team took a lot of inspiration from real animals to amplify the authenticity. "It's supposed to feel like all these creatures that you've seen mostly in very bright colours in anime style are sitting in the same room with you. [From one Pokemon to the next], they have different textures — some are furry, and some are kind of leathery or snakes," Baxter added. "For every creature, we took real-world animals and drew from that. We put all these pieces together to form what that Pokemon would look like. Even though they're a creature that doesn't exist in our world, all of the elements of what makes them up in this movie are taken from animals to do."
And you can totally see that in the trailer. The Pokemon that have been showcased so far retain what makes them iconic but have additional aspects to make them fit seamlessly into our world. Hopefully this follows through into the actual film, and these characters don't fall into the trap of
the uncanny valley.
I know I've mentioned this on here before, but I have a huge problem in playing too many games at once. It's gotten to the point where I'll start up my consoles and be at a loss with what game to dive back into when I have at least three on each that I'm playing. That being said, the games announced in the recent Nindie Direct has got me so damn excited about experiencing some new games — looks like I'm never going to learn.
Regardless, I will definitely be purchasing the likes of
Cuphead
and
Cadence of Hyrule — Crypt of the Necrodancer
even though I'm pretty unfamiliar with both of them.
Cuphead
especially, since I don't think that I'd get the chance to play it since I don't have an Xbox or the capacity to play it on Steam. Although, my brother is adamant that I shouldn't even bother purchasing it because of its difficulty.
While I can totally foresee myself throwing my controller at the screen, I just need to experience the animation style and gameplay regardless of how bad I am at it.
image credit: focus features
The interview explores how Eternal Sunshine became a cultural touchstone of the early '00s, and how Gondry went about casting Carrey in the first place — turns out he's a huge fan of the actor's work and watches Liar, Liar every year (can relate). And while Carrey unsurprisingly revealed how Gondry isn't a conventional director, it seems that Gondry doesn't have a clue what his own film is actually about. "I think the last time I saw it, I didn't understand anything in it," he told Vanity Fair. Same.
If you're a listener of the true crime podcast
Serial
and are patiently awaiting a fourth season, there's a new podcast to fill the gap. Hosted by
Rolling Stone
editor and author Neil Strauss,
To Live and Die in L.A.
explores the disappearance of aspiring actor 25-year-old Adea Shabani
who vanished from her apartment complex near Hollywood's Walk of Fame in 2018. Shabani's family contacted Strauss days after she disappeared "in hopes that [Strauss] would write an article about her to help bolster the investigation."
Podcasts such as this help inform the public about situations like this by bringing attention to the investigation and can often encourage witnesses to come forward no matter how small their information is — one witness can change the whole case.
"This podcast is for the victims of this story and those who love them," Strauss said. "I hope to bring them the answers and the closure they deserve after so much pain and uncertainty. There are a lot of problems with procedure after a person goes missing. I hope this series can shed light on them, inform families in similar situations, and lead to change in procedure, especially in the crucial first week."
image credit: stylist/alexei hay
Since I began watching
The Chilling Adventures of Sabrina
,
my love for Kiernan Shipka
has shown no bounds. She has such an amazing range, and her history as a child actor in the business has thankfully turned out to be a positive one as
Stylist
recently explored in a recent interview with the actor. In this convo with the magazine, Shipka opened up about how much the characters she portrays mean to her, especially when it comes to Sally Draper and Sabrina Spellman.
"To have a character like Sabrina makes me very happy and excited that some young girls are watching and looking up to a strong girl who is doing what's right and calling out what's wrong," she said. "We see Sabrina fail a lot, but instead of letting it get her down, she gets right the hell back up. I think showing more complex, multi-dimensional female characters on television is extremely important. It's important for people to see themselves in characters."
Preach it, sister.
Netflix only went and dropped the trailer for Stranger Things 3, and boy am I pumped. It's taking place in my favourite year, there's a remix of The Who's 'Baba O'Riley' signalling the gang's transition from childhood to adolescence, and everything is just so 80s — even more so than the past two seasons. From the scrunchies to the bright neon, this trailer has got me way more excited than I thought I would be.
And as much as I would love to jump in to the theories and plot points that are being teased her, there's just way too much of it for me to unpack.
Insider
did a great job at
picking out some of the major points
like the new actors and hints to what the residents of Hawkins may face in a recent video,
as well as on their website
.
image credit: sony pictures releasing
Even though the release date of
Quentin Tarantino's Once Upon A Time In Hollywood
is quite a few months away (July 26 to be exact), Tarantino absolutely
nailed
it with the teaser trailer. The director hasn't given too much away, but he's provided enough to demonstrate the style and narrative direction he's going for in what will be his ninth flick. From what was shown in the trailer, it seems that the film will centre around a Western TV actor (Leonardo Di Caprio) and his stunt double (Brad Pitt) as they traverse 1960s Los Angeles —
just
before the Manson family commit their crimes.
There's a small glimpse of Charles Manson and his followers, and there's also an unexpected encounter with Bruce Lee who is portrayed brilliantly by Mike Moh. Like, it's actually insane how much the dude looks and sounds like Lee — it's as though the man himself has been reincarnated just to play this role. Anyway, in true Tarantino style Once Upon A Time in Hollywood seems to be a black comedy, featuring a juxtaposition between the brutal Manson murders and the humour provided by Di Caprio and Pitt's characters.
Yeah, I cannot wait for this.
As much as I love anime, I'm not as versed with it as I'd like to be. I find that it's so damn hard to know where to start, but thankfully
Vulture recently compiled a list of anime shows
that are currently available to watch on Netflix. They've even gone so far as recommending the shows through other series you may like from
The Office
to
Scooby Doo
so your decision making will be a hell of a lot easier.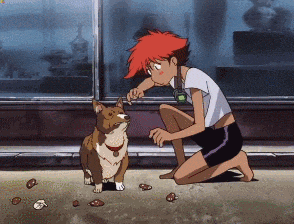 credit: giphy
I'd also like to point out my disappointment regarding
Cowboy Bebop
's disappearance from the streaming platform, a show that every anime fan needs to watch at least once. Luckily, I'd finished watching it
before the rights ran out
but I was in the midst of a rewatch when it up and vanished. You'd think that with the live adaptation in the works (which Netflix are producing) that they'd renew the rights asap so that viewers can be familiar with the story before the live action series comes out.
At least there's the small consolation that Shinichirō Watanabe's other anime Samurai Champloo is available to watch in the meantime.